3 per week

Addicted 2 Decorating (.com)

3 per week
. Lets have a heart-to-heart chat. I want to share some encouragement with yall that I know Ive shared before.
---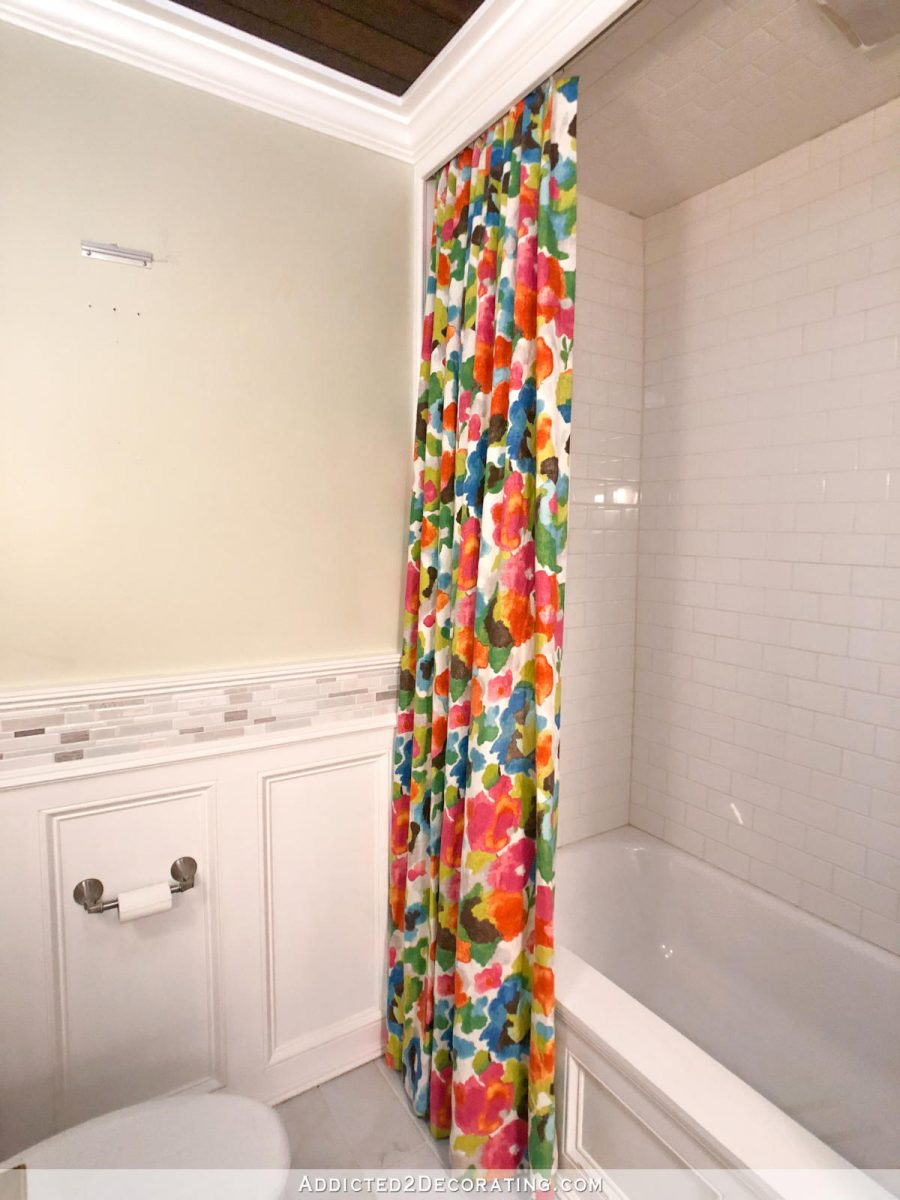 . I finally got my new DIY shower curtain made! I was beginning to think it would never be finished with all of my sewing machine problems, and then the fact that the fabric I was using was a complete pain to work with. I was about ready to scrap the entire project and start over with a new fabric.
---
. Well, the week has only just begun, and yet Im having one of those weeks. You know the kind.
---
. Ive been spending the last couple of days working on my hallway bathroom makeover that I mentioned earlier this week. I should have it finished up this weekend and be ready to move on to other projects.
---
Im starting to seriously think about and make plans for my studio/back entry/half bathroom area, and as you probably already know, what I really want on the front wall of my studio is a bold, colorful watercolor floral wallpaper. But after months and months of searching for the perfect pattern with no success (believe me, Ive searched all major wallpaper companies, Etsy, Bluebellgray, Spoonflower, and on, and on), Ive finally decided that my only option is to create my own custom wallpaper pattern. I knew I wanted something really bold (like really, really bold) with very little negative space.
---
Do you have a room or area in your house that you walk into and just think ughthis just isnt right? Well, thats how I feel every time I walk into my hallway bathroom, which is generally a few times a day. And yall, no finished area in our houses should make us feel that way. As much as Ive been trying over the last couple of years to avoid redoing areas that Ive deemed are finished, I just cant commit to living with my hallway bathroom looking like it does now for another year.
---
Im back today with a little more info about my pantry remodel. If you missed the big before and after post filled with photos of my newly finished pantry remodel, you can see it here: I had intended to include a short video tour in yesterdays post, but after encountering technical difficulty after difficulty with my computer on Wednesday, it was all I could do to just get photos edited. So I finally gave up on the video and went to bed.
---
I finally have before and after pictures of my finished butlers pantry remodel to show you! The actual pantry took me ten-and-a-half weeks to build and finish, which was much more than I had bargained for when I decided to be a guest participant in the Fall 2018 One Room Challenge. I must have been delusional to think I could get this room done in five weeks, including building the cabinets from scratch, building a wood countertop, building floating shelves, painting the freezer, building pull-out shelves, and hand-tinting over 200 resin/alcohol ink tiles. But that challenge was just what I needed to give me the motivation to get started on the pantry.
---
Happy 2019, yall! Wow2019. I hope all of you had a wonderful ending to 2018. I personally sat on my butt on my bed, snuggled under my comfy blanket and glued to Netflix, for the entire last week.
---
Well, hello there, yall! Ive been having such a great week off, binge watching all of the cheesy holiday romcoms I can find (with a little Bird Box thrown in) before the calendar rolls over to January 1st. I still have two more days of Netflix binging planned, but before we officially say goodbye to []
---